Kettle corn: an outdoor business with fantastic profit margins, curb-side potential, and quick return on investment.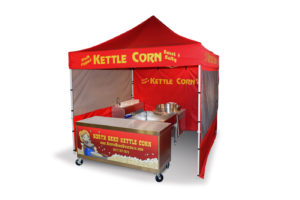 Call us at 877-707-2676 for friendly advice and answers to your questions, or email us for a quick response!
Financing is Available!
We are proud to offer a complete line of financing options through Schulte Leasing. There are many benefits to leasing kettle corn equipment, and even with challenged credit we have options for you, too!
Please contact Jon Schulte directly at (949) 246-7467, or e-mail him at JonDSchulte@gmail.com.
What our customers are saying...
Oh my goodness…it has been so crazy. I wanted to catch you up since my last e-mail. We got the job at the orchard! I can't believe it Andrea… last weekend we made $9,890… yup you read it right! That is after we gave them their 20%. It will not be like this every weekend…

Lori, MA
First I want to thank you for the fine equipment and exact standards. I have been using my auto stirrer between two machines and the holes on the new model matched exactly (I did not have to re-drill or make any modification). I can do the best business practices, work unlimited hours, and travel hundreds

Doug, MO
I installed my automatic stirrer and used it for the first time on Saturday (our next regular market day). I operate out of an open shed and to say that the mess I now have to clean up is a lot less is one of the greatest understatements of the year. The operation is smooth

Ken, NY
---
Kettle Corn: a Profitable Business
COVID update, June 2020: The last few months have been, for all of us, unprecedented. Some of us are sad, some are angry. Some are flat broke, others are making more than usual on unemployment. But we're all still eating. And most of us are desperate for a sense of normalcy.
If you're an entrepreneur like us, you believe in America. We believe in the American dream. We believe in our fellow entrepreneurs, who stop at nothing and will get creative to sustain and build their businesses. In the height of the pandemic, we heard from Mike, who had set up in front of Lowe's and had a $3,000 weekend. Susan in Pensacola participated in a drive-through Farmer's Market. Steve from Rhode Island has been busy setting up outside busy restaurants, capturing the take-out crowd. We live in Ohio; our flea markets are back in full-swing, and the latest, greatest event has been fairgrounds hosting drive-through "fair food" weekends. Farmers' Markets are considered the safest way to get fresh product while supporting local business. Our local health inspector said applications for mobile food service licenses have been through the roof.
If you've been considering starting a kettle corn business, why not get started right now? Food is an essential; people have a renewed sense of loyalty to local businesses, and kettle corn is always popped outdoors – the safest place to be right now. If you're in need of a loan, money has never been cheaper; the government has every reason to incentivize small businesses.
We're here for you and would love to help you start your own kettle corn business. Since 2002, we have helped launch thousands of kettle corn businesses in all 50 states and 20 countries; we have the experience to help you become a successful kettle corn operator.  Our A+ rating through the Better Business Bureau should assure you of the integrity of our company and the quality NSF certified products we manufacture.  We are always thrilled when another customer thrives in his or her business venture, and look forward to helping YOU write your own success story. God bless you, and God bless America.