Kettle corn: an outdoor business with fantastic profit margins, curb-side potential, and quick return on investment.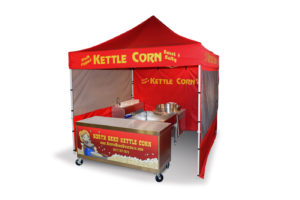 Call us at 877-707-2676 for friendly advice and answers to your questions, or email us for a quick response!
Financing is Available!
We are proud to offer a complete line of financing options through Schulte Leasing. There are many benefits to leasing kettle corn equipment, and even with challenged credit we have options for you, too!
Please contact Jon Schulte directly at (949) 246-7467, or e-mail him at JonDSchulte@gmail.com.
What our customers are saying...
Please pass along HUGE kudos to everyone at North Bend. My husband was VERY impressed with the quality and workmanship of the equipment. You all are a wonderful blessing and a pleasure to work with! We popped our first batch of kettle corn on Sunday afternoon. It was a success and a huge hit with our 4 kids and their friends.

Lauran, VT
We got busy planning (and then popping) for our first football game. 90+ degrees and we had an 85% increase over the same game last year…$8,500 in sales for a sales period of about 6 hours.

Mike, TX
First I want to thank you for the fine equipment and exact standards. I have been using my auto stirrer between two machines and the holes on the new model matched exactly (I did not have to re-drill or make any modification). I can do the best business practices, work unlimited hours, and travel hundreds

Doug, MO
---
Kettle Corn: a Profitable Business
If you're looking for a way to earn extra cash, a kettle corn business should be at the top of your list. Although a kettle corn business is the primary source of income for some, most kettle corn vendors operate part-time, in addition to their day jobs. The kettle corn business can be whatever you want it to be – that is not an overstatement. For instance, while some of our customers are content making $300 to $1000 once a week at their local Farmers' market, others schedule every county fair, craft show, and sporting event they can find. Needless to say, they are rewarded substantially for their hard work.
Regardless of your goals, the start-up cost of a kettle corn business is money that can be recovered quickly; sometimes it happens in a year, sometimes in a month. In addition to the low start-up cost, another advantage to owning a kettle corn business is the simplicity of making a great product.
Please allow us the opportunity to help you start your own kettle corn business. Since 2002, we have helped launch thousands of kettle corn businesses in all 50 states and 20 countries; we have the experience to help you become a successful kettle corn operator.  In addition, our A+ rating through the Better Business Bureau should assure you of the integrity of our company and the quality products we manufacture.
After a year of uncertainty, it looks like our country will return to normal very soon.  If you are an entrepreneur like us, you believe in the American dream and the opportunity it provides to own and operate your own business.   We are always thrilled when another customer thrives in his or her business venture.  Thank you for visiting our website, and we look forward to helping YOU write your own success story.