Are you interested in starting your own kettle corn business? A professional booth, efficient equipment and our addictive recipe are vital to your success!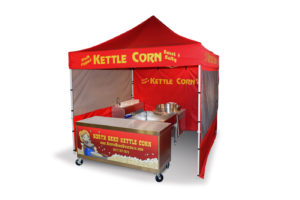 Call us at 877-707-2676 for friendly advice and answers to your questions, or email us for a quick response!
Financing is Available!
We are proud to offer a complete line of financing options through Schulte Leasing. There are many benefits to leasing kettle corn equipment, and even with challenged credit we have options for you, too!
Please contact Jon Schulte directly at (949) 246-7467, or e-mail him at JonDSchulte@gmail.com.
What our customers are saying...
First I want to thank you for the fine equipment and exact standards. I have been using my auto stirrer between two machines and the holes on the new model matched exactly (I did not have to re-drill or make any modification). I can do the best business practices, work unlimited hours, and travel hundreds

Doug, MO
I installed my automatic stirrer and used it for the first time on Saturday (our next regular market day). I operate out of an open shed and to say that the mess I now have to clean up is a lot less is one of the greatest understatements of the year. The operation is smooth

Ken, NY
Last year was our first year in the Kettle Corn business. It was more successful than we could have ever imagined. We were busy every weekend from Memorial Day until the last week of October (less three weeks of much-needed vacation time). We made over $15,000 for the season with our biggest day being $1,875

Larry, WA
---
It's an exciting time to be an entrepreneur
Take the 7 Kahle children, who paid for their own equipment and launched Kountry Kernel Kettle Korn! As if their holiday wreath business wasn't enough, they now stay busy year-round serving up "the best kettle korn around."
Meet twin brothers Thomas & Robert from California. Robert purchased our Complete Mobile Concession Package in March, with Tom following suit in June! When asked what colors he would like for his canopy, Tom said he wanted "just what Robert got." Tom is smart; he knew that what had worked for others had worked for his brother, and would work for him, too! Find out how Robert's first event went.
Kevin & Lori's kettle corn business grew so much the first year that they added another set-up, almost exactly 1 year after they got started!
Then there's Charlie, who has been successful in the kettle corn business for years. Although he started out using a machine with a cast iron kettle, this year he decided to make the switch to stainless steel. He soon wrote to tell us his new kettle was "cooking corn the best of his 4 rigs!"
Last but not least, I've got to mention Eric, Velma & Steve of Velma's Wicked Delicious Kettle Corn. You'll die laughing at Eric's "Kettle Corn Blog." Disclaimer: North Bend is released and held harmless for anything Eric posts on this site! ha ha
Although these successful business owners' stories & motivations are varied, they all have one thing in common. None of them jumped blindly into the kettle corn business. They all did their research, put together a plan, and ACTED on it. It's an exciting time to be an entrepreneur in America!